Conceptual and methodological challenges to measuring political commitment to respond to HIV
Journal of the International AIDS Society
2011
14(Suppl 2):S5
Published: 27 September 2011
Abstract
Background
Researchers have long recognized the importance of a central government's political "commitment" in order to mount an effective response to HIV. The concept of political commitment remains ill-defined, however, and little guidance has been given on how to measure this construct and its relationship with HIV-related outcomes. Several countries have experienced declines in HIV infection rates, but conceptual difficulties arise in linking these declines to political commitment as opposed to underlying social and behavioural factors.
Methods
This paper first presents a critical review of the literature on existing efforts to conceptualize and measure political commitment to respond to HIV and the linkages between political commitment and HIV-related outcomes. Based on the elements identified in this review, the paper then develops and presents a framework to assist researchers in making choices about how to assess a government's level of political commitment to respond to HIV and how to link political commitment to HIV-related outcomes.
Results
The review of existing studies identifies three components of commitment (expressed, institutional and budgetary commitment) as different dimensions along which commitment can be measured. The review also identifies normative and ideological aspects of commitment and a set of variables that mediate and moderate political commitment that need to be accounted for in order to draw valid inferences about the relationship between political commitment and HIV-related outcomes. The framework summarizes a set of steps that researchers can follow in order to assess a government's level of commitment to respond to HIV and suggests ways to apply the framework to country cases.
Conclusions
Whereas existing studies have adopted a limited and often ambiguous conception of political commitment, we argue that conceiving of political commitment along a greater number of dimensions will allow researchers to draw a more complete picture of political commitment to respond to HIV that avoids making invalid inferences about the relationship between political commitment and HIV outcomes.
Keywords
Male CircumcisionState CapacityPolitical CommitmentInstitutional CommitmentGovernment Commitment
Background
Researchers have long recognized the importance of a central government's political "commitment" in order to mount an effective response to HIV [1–12]. In spite of this recognition, empirical research examining the effects of political commitment on HIV outcomes remains sparse [13], and the concept of political commitment, also sometimes referred to as "political will", ill-defined [13, 15, 16]. Indeed, a government's political commitment to respond to HIV is often judged loosely in terms of countries' "reputations" for good or bad leadership on HIV with little empirical justification [11, 12]. Without clarity about how to assess a central government's political commitment to respond to HIV, countries cannot be held accountable for inadequately responding to this epidemic, nor can committed countries provide lessons about effective policy approaches to other countries.
Lack of conceptual clarity over how to assess political commitment may furthermore lead researchers to draw invalid inferences about the relationship between commitment and outcomes. As Youde (2007) notes, researchers have tended to infer varying levels of political commitment based on HIV outcomes [10]. Countries with continued high prevalence rates are blamed for their failure to adequately respond, whereas countries that have maintained low prevalence rates are praised for keeping their epidemics under control. This approach to measuring political commitment is problematic because commitment is measured in terms of a successful or unsuccessful outcome, instead of being measured separately from the outcome of interest [10]. In order to assign causal significance to political commitment, it is necessary to establish a relevant counterfactual: what would the HIV infection rate in countries with strong commitment have been if their commitment had, contrary to fact, been weak?
A number of recent "success" cases in HIV reduction draw into question how political commitment contributes to HIV outcomes. Zimbabwe, Kenya and Haiti have recently experienced declines in HIV prevalence that can be explained by parallel changes in behaviour [17–20]. Yet, unlike early country examples, such as Uganda and Thailand where declines could plausibly be linked to explicit government policy responses [21, 22], these countries are not distinguished for clearly having strong political commitment targeting prevention and behaviour change. By contrast, Botswana is considered successful in developing effective treatment policies, but has not been deemed successful at preventing new infections; this is what Swidler (2006) refers to as the "Botswana paradox" [23]. Without a clear understanding of how political commitment contributes to HIV outcomes, debate will continue about the degree to which declines can be attributed to policy responses versus the natural dynamics of the epidemic, or other reasons, such as social changes and grassroots responses unrelated to government commitment [17, 24].
Although commonly invoked in the public health literature, within political science, the concept of political commitment has not been well explored. Political scientists consider leadership characteristics to be idiosyncratic [25], to lack predictive power [26], and to fail to account for long-term differences in policy trajectories over time [27, 28]. Students of political science instead look to more durable reasons for policy differences across countries, such as variations in political institutions [27–30], political culture [31, 32] and trends in competitive politics [33, 34]. Policies are believed to come onto the national agenda not because of the strong initiative of individual leaders exclusively, but rather because of a confluence of several factors coming together at the right moment, including the existence of a ready-made policy solution, which addresses a persistent problem and the opening of a political window of opportunity as a result of elections or the advent of a crisis [35]. In this way, the commitment of leaders is insufficient to assure attention to an issue if these other factors are not present [35].
In democratic and multi-party systems, the opinions of leaders are believed to reflect the will of the public, and voters can either hold governments accountable for their policy responses through voting them out of office or can prospectively elect a leader who pledges her commitment to a particular policy platform [36]. International norms and policy ideas that are advocated by international institutions like the World Bank are also likely to influence leaders' policy choices [34, 38]. On the other hand, research in other policy domains has shown that leaders do not simply follow the preferences of their constituents in formulating policy; rather, the content of policies differ between leaders who are "true believers" in a policy compared with leaders who are "converts" and follow popular opinion or pressure from international institutions [34]. True believers implement policy as intended by policy designers, whereas converts implement policy in a manner that is more in line with their actual beliefs. Thus, even leaders who adopt the same policies in name may implement them very differently. Politicians can also frame the reasons for their policy choices differently to make them more compelling to their constituents [39]. One challenge in measuring political commitment from a political science perspective is therefore the question of how to know whether a leader is genuinely committed to a policy platform or is feigning commitment for strategic reasons or under pressure from external forces and may therefore be more likely to renege on commitments or implement them in a self-defeating manner. Leaders have an incentive to support popular policies or policies tied to continued international assistance even if ideologically they do not agree with them.
Furthermore, with regular turnover of leadership in electoral democracies, there is also the risk that policies established under one administration will be reversed if there is a change in leadership. The question thus becomes one of "credible" commitment, i.e., can actors be assured that the government will commit in a way that would make later policy reversals highly unlikely [40–42]? The pronouncements of the state and its concrete actions constitute its signal of credibility, i.e., of a "credible commitment" whereby actors expect the state to abide by agreed upon or expressed policies and not renege or arbitrarily exercise discretionary power [41]. The crucial question in assessing the credibility of commitment is therefore whether constituents and advocates can identify mechanisms that effectively tie the hands of governments making policy reversal difficult.
As this brief review illustrates, because political science research is primarily interested in explaining political phenomena rather than health outcomes, this body of research has tended to focus on explaining political commitment rather than the effects of political commitment on policy outcomes. This line of research is less useful to researchers in the health field who wish to assess the latter relationship. Consequently, the difficulty that health researchers experience in measuring political commitment can be partly attributed to a dearth of existing theory on political commitment that links it to outcomes.
These constraints have left a knowledge gap in the field on how political commitment translates into effective government action on HIV outcomes. A number of indicators of HIV-specific political commitment are available, which could be used to study the effect of commitment on government action and HIV outcomes, including the AIDS Program Effort Index [43], the United Nations General Assembly Special Session on HIV/AIDS (UNGASS) Declaration of Commitment Indicators [44], and the AIDS Policy Aggressiveness Indicators [45]. Despite their potential, these measures have only rarely been used to assess the effect of commitment on outcomes.
Methods
Given the gap between the importance that is ascribed to political commitment and what is actually known about the contribution of political commitment to HIV outcomes, it is important to establish a framework to assist researchers in conceptualizing and measuring political commitment in a way that is empirically testable. To that end, this article first critically reviews existing efforts to assess political commitment to respond to HIV and describes and critiques three major components along which commitment has been conceptualized in the literature: (1) expressed commitment; (2) institutional commitment; and (3) budgetary commitment.
The paper then identifies normative and ideological aspects of government responses to HIV that cut across these three dimensions that further complicate the measurement of commitment and suggests ways that researchers can approach the measurement of these aspects to produce clear research questions. The article additionally argues that it is necessary to control in the analysis for factors that influence countries' ability to respond to this epidemic in order to draw inferences about the relationship between political commitment and HIV outcomes.
Based on this review and political science theory on political commitment, the paper then develops a conceptual framework to assist researchers in assessing a government's level of political commitment to respond to HIV, and provides examples of how the framework can be used to draw valid inferences about the effect of political commitment on HIV-related outcomes. Although this framework is developed with HIV in mind, we encourage researchers to test the robustness of this conceptualization of political commitment to assess its impact on other public health threats.
Discussion
Applying the framework to assess the effect of political commitment on HIV outcomes
What is clear from this discussion is that political "commitment" to combat HIV is a complex construct made up of different dimensions and affected by different aspects of commitment. Although studies vary in their focus, a complete picture of a government's political commitment necessitates accounting for each component of commitment. For example, governments may verbally commit to HIV, making public pronouncements for instrumental reasons (e.g., to attract donor funds), but fail to translate this rhetoric into action in the form of laws or investments in actual programmes. Conversely, governments may remain silent, but have all of the institutional infrastructure in place and invest resources towards HIV. It is also possible for governments to commit institutionally, but to underfund programmes, leading to incomplete policy implementation. Governments may invest in programmes but undermine them through public discourse or lack the institutional capacity to make use of funds. Judgements on the level of political commitment should therefore take simultaneous account of different components of commitment.
Even within a single country, political competition can lead to rival frames with political parties appealing to varying constructions of HIV risk and pressuring for different kinds of policy responses. In federal states, commitment may vary across relatively autonomous sub-national units making a uniform assessment of political commitment impossible. For federal states, the framework can be applied in microcosm to assess how differences in levels of commitment across sub-national units affect HIV outcomes. Alternatively, national policy or the average across states can be used to aggregate country responses.
Researchers must also use their discretion and be explicit in their choices concerning how to code government commitment according to its responsiveness to human rights and ethical standards (i.e., normative aspects) and the use of medical evidence in line with international standards (i.e., evidence-based aspects). In addition, background factors that affect the ability of the state to respond should be taken into account in assessing a country's level of commitment. A country with weak state capacity (e.g., because of heterogeneity and fractionalization or a low resource base) may find it more difficult to translate commitment into an effective response.
Though it is tempting to attribute rapidly increasing or declining infection rates to political commitment, even if commitment is correctly specified for a given country, a number of challenges arise in causally linking commitment to HIV outcomes, particularly reduced incidence and HIV-related mortality [24]. Scholars should be aware that even when a country scores highly on its level of commitment to respond to HIV, its observed success in managing the epidemic may be causally related to something else (e.g., the efforts of civil society groups or a natural decline in the epidemic). Ideally, observational studies should employ strong approaches to identify causal effects using, for instance, natural experiments or sharp discontinuities in commitment levels.
Because institutional and budgetary commitments are more concrete and objective than expressed commitments, which may be rhetorical, instrumental or symbolically driven, these components can be thought of as a form of "demonstrated" commitment rather than mere "stated" commitments. Countries can then be assessed on the degree to which their stated commitments corresponds with demonstrated commitments. To demonstrate this conceptualization of commitment, we can imagine a four-by-four table that would divide countries according to their levels of stated commitment and demonstrated commitment: (1) both stated and demonstrated commitment (credible commitment); (2) stated but not demonstrated commitment (rhetorical commitment); (3) demonstrated commitment without stated commitment (objective commitment); and (4) low stated and demonstrated commitment (uncommitted) (Figure
2
).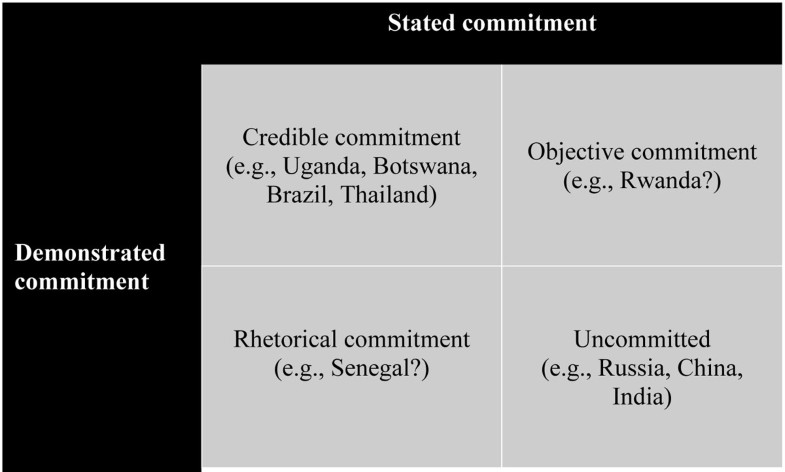 Examples of countries that have credibly committed to HIV both in terms of actions and words could include Uganda, Botswana, Brazil and Thailand [11]. In these countries, institutional and budgetary commitments have been backed up by verbal commitments from the governments and have developed over time to a point where reversal of course is more difficult to achieve than a continuation. An example of a country with rhetorical commitment might be Senegal, which was praised early on by researchers for its openness to discussing HIV and the government's explicit engagement with religious leaders in the response [82, 83]. In terms of actual expenditures on HIV, however, Senegal's budget remains modest and performance on outputs, such as ARV coverage for its small population of people living with HIV, low [11].
Rwanda, on the other hand, has been extremely effective at allocating resources for treatment and creating necessary institutions [11], but has issued few public statements highlighting HIV as a public health threat, leading some to question whether the country's commitment to HIV is more strategic than genuine [84].
Finally, many countries might fall into the category of uncommitted, including Russia, India and China. These countries have not, or have only very recently, begun to publicly address HIV as a substantial public health threat and to build substantial institutional or budgetary commitments to respond to HIV [11]. For Russia and China, this is the case even though both countries have more state capacity, particularly in the form of financial resources, than many other developing countries to address this disease [11].
Bringing in normative and evidence-based dimensions to these examples could add additional nuances to the interpretations. Although generally interpreted as committed, Botswana's routine opt-out testing policy has been criticized by international human rights observers [58], and Thailand's lack of harm-reduction policies for injection drug users has been scorned [85]. Researchers have at various times questioned the evidence base of Uganda's response, which committed to HIV prevention interventions at times when these interventions have lacked strong scientific support or were scientifically contested [48, 62]. Using an objective measure of verbal commitment agnostic to contents, South Africa would be considered verbally committed, even though a large amount of the attention that past leaders have paid was to scientifically contested prevention and treatment strategies. Likewise, the Gambia's president, Alhaji Yahya Jammeh, has both verbally committed to his own herbal remedy for HIV and set up a parallel state-run treatment programme consisting of Islamic and traditional medicines [86].
These cases would have to be tested more systematically using available metrics (e.g., UNGASS and AIDS Program Effort Index indicators), discourse analysis of government speeches, and other appropriate methods. The type of commitment should also be matched with relevant outcomes, as in the case of Uganda, whose stated and demonstrated commitments have been oriented towards prevention, whereas Brazil and Botswana have emphasized treatment.
In spite of the challenges involved in measuring political commitment and coding countries accordingly, there are steps that researchers can take to assess the causal association between political commitment and HIV outcomes. Our examples are illustrations of how the framework can be applied in a more systematic manner.
As outlined in this paper, the steps that researchers may take to determine whether policy had an effect on HIV outcomes are the following:
1. Evaluate expressed commitment, including the frequency, timing and content of statements by key leadership.
2. Assess institutional commitment in terms of the presence of laws, policies, procedures and institutions addressing HIV prevention, care and treatment.
3. Calculate budgetary commitment in terms of both actual resources pledged and allocated towards HIV prevention, care and treatment.
4. Judge the alignment of the response with human rights, ethical standards, and scientific evidence, and decide whether to adopt a measure that defines commitment according to normative and evidence-based aspects of the response or a measure that is agnostic to these standards.
5. Account for state capacity with explicit consideration of international and non-governmental contributions.
6. Gauge performance on outputs and outcomes and alignment with the timing and type of policy response undertaken and, where possible, use strong observational quantitative study designs to identify causal effects.
7. Consider alternative explanations for outcomes (e.g., social and behavioural factors unrelated to political commitment).
Conclusions
Assessing political commitment to respond to HIV is not a straightforward process. It is made complex by the fact that commitment has several dimensions (expressed, institutional and budgetary) and aspects (normative and evidence-based) along which a country can be judged. In general, better studies of commitment take into account more of these dimensions, but not every research question calls for evaluating each of these components. In addition, domestic political processes are influenced by a number of factors, which should be accounted for in assessing the relationship between commitment and HIV outcomes, because they confound, modify or mediate the relationship.
Despite these complexities, there are specific steps that researchers can take to accurately assess a country's level of political commitment to respond to HIV and how this commitment ultimately influences HIV outcomes.
Declarations
Acknowledgements
Support for this research was provided by the Agency for Healthcare Research and Quality. TB received funding support through the National Institute of Child Health and Human Development (1R01 -HD058482-01) and the National Institute of Mental Health (R01MH083539-01).
This article has been published as part of Journal of the International AIDS Society Volume 14 Supplement 2, 2011: Bridging the social and the biomedical: engaging the social and political sciences in HIV research. The full contents of the supplement are available online at http://www.jiasociety.org/supplements/14/S2.
Authors' Affiliations
(1)
Division of Health Policy and Administration, Yale School of Public Health, New Haven, USA
(2)
Department of Sociomedical Sciences, Mailman School of Public Health, Columbia University, New York, USA
(3)
Department of Global Health and Population, Harvard School of Public Health, Boston, USA
(4)
Africa Centre for Health and Population Studies, University of KwaZulu-Natal, Mtubatuba, South Africa
Copyright
© Fox et al; licensee BioMed Central Ltd. 2011
This article is published under license to BioMed Central Ltd. This is an open access article distributed under the terms of the Creative Commons Attribution License (http://creativecommons.org/licenses/by/2.0), which permits unrestricted use, distribution, and reproduction in any medium, provided the original work is properly cited.