Hepatitis C in HIV-infected individuals: cure and control, right now
Journal of the International AIDS Society
2011
14:22
Received: 13 October 2010
Accepted: 8 May 2011
Published: 8 May 2011
Abstract
For persons living with HIV, hepatitis C is a major public health problem that must be controlled and could be eliminated. The challenge arises because the hepatitis C virus (HCV) is prevalent among HIV-infected persons in most parts of the world, because HIV worsens all HCV outcomes, and because HCV may add additional individual economic and psychosocial complications to HIV disease. Despite the major benefits of antiretroviral therapy on HIV outcomes, antiretroviral therapy is not sufficient to halt the complications of HCV. Nonetheless, HCV can be controlled at all stages, including prevention of infection and cure. Thus, HCV is an eradicable disease. There are significant inequalities worldwide in HCV control that could markedly constrain the impact of these measures.
Review
Control of HCV infection
Proof-of-principle studies have demonstrated that all phases of control are possible, from prevention to treatment. At the same time, most research suggests that HCV control will create huge disparities in outcomes.
HCV transmission can be prevented
HCV transmission can clearly be prevented. Transfusion transmission of HCV has virtually been eliminated in any setting where donations are screened for HCV antibodies and RNA [37]. Likewise, nosocomial transmission has been reduced by observance of blood-borne precautions.
Prevention of HCV transmission among IDUs can be achieved but is more difficult than HIV
Harm-reduction efforts, such as needle exchange, have been associated with reductions in HIV and HCV incidences in some settings. In Baltimore, HIV incidence rates among IDUs have dropped markedly from ~5 per 100 person years in 1990 to nearly zero since 2000. In the same Baltimore cohort, HCV incidence dropped from 22 to eight per 100 person years over the same time span (Mehta S, personal communication).
Given the greater transmissibility of HCV and the greater reservoir of IDUs already infected (as we have discussed), it is not surprising that even stronger harm-reduction measures will be needed to eliminate new HCV infections. If HCV is a log10 more transmissible than HIV, public health interventions may need to be an order of magnitude stronger to control HCV.
Control of chronic hepatitis C
HCV infection can also be controlled even after it occurs. The first step in controlling chronic hepatitis C is detecting infection by screening and testing. Nearly all guidelines indicate that HIV-infected persons and all IDUs be tested for HCV [38–40]. However, the effectiveness of such guidelines and the associated practices varies markedly.
In the USA, rates of testing and awareness are lower. Some have estimated that 70% of all those with chronic hepatitis C in the USA are unaware of their infection. Data from The TREAT Asia (Therapeutic Research, Education and AIDS Training in Asia) HIV Observational Database, a collaborative observational cohort study involving 15 participating sites in 12 cities in the Asia and Pacific region, indicate that hepatitis testing data are available in nearly half of the TAHOD patients, with prevalence of HBV and HCV coinfection each at approximately 10% [41]. Lack of access to HCV testing and counseling is a major problem throughout eastern and central Europe and in Asia. The cost of the test is a major barrier.
Stigmatization of illicit drug use and HCV infection itself are obstacles to screening programmes. However, these issues have been addressed for HIV and can be overcome by a variety of measures that are likely to differ in various cultures.
Opting for HCV testing
The prevalence of HCV infection is sufficiently high to justify testing of any IDU and the stigma of acknowledging illicit drug use is sufficiently high that routing testing may be preferable to screening for specific HCV risk factors (and then testing those with risk). HCV testing should include counseling and, ideally, opportunities for disease management, which sometimes will involve treatment.
Given the small proportions of HCV-infected persons who are currently aware of their infections, greater effort also should be given to development and implementation of rapid HCV tests. For example, tests that can be used at any venue and provide results that can be interpreted at the same visit are highly desirable, as with HIV [42]. Counseling to reduce transmission to others and to reduce the harm of alcohol use is essential. Vaccination should be provided to susceptible persons to prevent hepatitis A virus and hepatitis B virus infections [39, 40].
Treatment is the most potent form of controlling chronic hepatitis C
HCV infection can be cured. Even in persons with HIV, suppression of replication during treatment and for six months after treatment (called a sustained virologic response, or SVR) is considered a cure because more than 98% will remain free of HCV viremia off medication for five or more years [43]. In addition, end-stage liver disease, liver cancer and other complications of HCV infection are reduced [44].
The global standard of care is peginterferon alfa and ribavirin, a combination that is expensive, toxic and effective approximately 50% of the time. Thus, guidelines currently recommend that treatment be used only for persons most likely to benefit (high disease stage, low risk of adverse events). However, treatment improvements are coming rapidly. "Highly active" HCV therapies are being developed, and approval of new compounds (often called direct acting agents, or DAAs) is expected in 2011. It is already clear that DAAs improve cure rates and will probably also reduce treatment durations [45]. In addition, clinical trials of interferon-free treatments are already in phase 2. Thus, it is reasonable to anticipate a day when 90% of HCV-infected persons could be cured by 24 weeks or less of treatment.
Even elimination of HCV is possible
There are many reasons why HCV could (and should) be eliminated. Humans are the only reservoir of HCV infection. Unlike HIV or HBV, there is no latent reservoir of HCV. When a patient is cured, they are no longer infectious to others. If environmental reservoir is reduced enough, infection will not be sustained. It is simply a matter of better drugs, which are anticipated, and then the allocation of resources to treat a sufficient number to break the transmission chain.
HCV outcome disparities
It is likely that existing inequities in HCV outcomes will expand markedly as therapies improve. Discrepancies already exist in the prevention and treatment of HCV infections worldwide. HCV transmission by transfusion has been eliminated from the USA and Europe, but continues in areas in the world in which donations are not screened effectively. HCV infection can be diagnosed, but fewer than 10% of the 170 million persons with HCV worldwide are aware of their infections. Even fewer have the opportunity for treatment.
In an interview with the United Nations Office on Drugs and Crime, Loon Gangte, President of the Dehli Network of Positive People, observed that the price of peginterferon and ribavirin exceeds the lifetime income of most Indians http://www.unodc.org/india/interview-with-mr.-loon-gangte.html.
Conclusions
In this way, HCV is much like HIV in the mid 1990s. HCV is about to enter an exciting era of more potent treatment that will reduce the mortality and morbidity associated with the infection. Treatments will continue to improve as newer generations of medications are developed. Like HIV, the benefits of treatment will be narrow unless there is a global response, such as what has occurred to bring antiretroviral therapy to millions of additional persons worldwide.
Will there be a Global Fund or PEPFAR for HCV? Even if all those who take HCV treatment are cured, if fewer than 10% receive care, the global impact of treatment remains minimal (Figure
5
). The effectiveness of efficacious therapy will be low.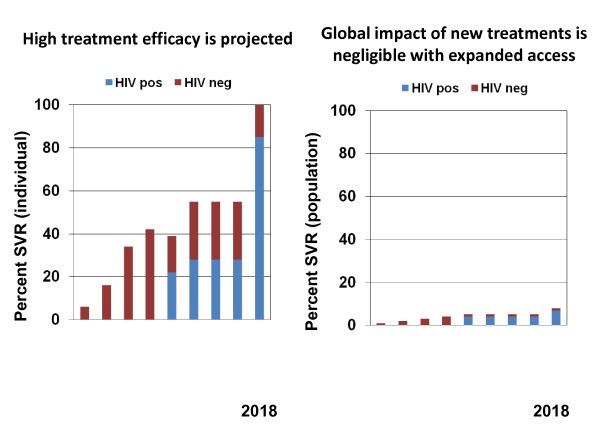 On 21 May 2010, the World Health Assembly passed a resolution that called for the World Health Organization to observe World Hepatitis Day on July 28 and to develop a comprehensive approach to control of chronic hepatitis. This is an exciting first step. However, a tremendous amount of work still needs to be done to bring new HCV treatments to those who need them and, perhaps some day, to eradicate another global infectious disease.
Declarations
Acknowledgements
We gratefully acknowledge grant R01016078 for supporting the project.
Authors' Affiliations
(1)
Johns Hopkins School of Medicine, Baltimore, USA
(2)
Salisbury University, Salisbury, USA
(3)
Center for Addictology, Department of Psychiatry, First Faculty of Medicine, Charles University in Prague and General University Hospital, Prague, Czech Republic
(4)
Gaitonde Centre for AIDS Research and Education, Chennai, India
Copyright
© Thomas et al; licensee BioMed Central Ltd. 2011
This is an Open Access article distributed under the terms of the Creative Commons Attribution License (http://creativecommons.org/licenses/by/2.0), which permits unrestricted use, distribution, and reproduction in any medium, provided the original work is properly cited.