Oral presentation

Open Access
Vitamin D and clinical disease progression in HIV infection: results from the EuroSIDA study
Journal of the International AIDS Society volume 13, Article number: O43 (2010)
1019 Accesses

1 Citations
Purpose of study
Since 25-hydroxy vitamin D (25(OH)D) deficiency has been associated with higher risk of morbidity and mortality in different settings, this study examined the association between 25(OH)D level and disease progression in HIV-infected patients with prospective follow-up in the EuroSIDA study.
Methods
A group of 2000 patients were randomly selected from those with stored samples after stratification by region. 25(OH)D levels were measured in a single laboratory from stored plasma samples. The 1985 available 25(OH)D results were stratified into tertiles. Factors associated with 25(OH)D levels and associations of 25(OH) levels with subsequent risk of all-cause mortality, AIDS and non-AIDS events were analysed, using Poisson regression.
Results
Thirty-six percent of patients had 25(OH) levels below 12 ng/ml, 31,3% between 12.1 and 20 ng/ml, and 32.7% above 20 ng/ml. In a cross sectional analysis, older persons, patients of Black ethnic origin, living outside Southern Europe and Argentina, sampled during winter, and infected with HIV through non-homosexual exposure were at higher risk of having low 25(OH)D levels, while patients receiving protease inhibitors were at a lower risk. Compared to those in the lowest 25(OH)D tertile, those in the medium and high tertiles had a significantly lower risk of clinical progression. Adjusted incidence rate ratios (IRR; see figure 1) for all-cause mortality were 0.68 (95%CI : 0,47-0,99, P=0.045) and 0.56 (95%CI : 0.37-0.8, P=0.009), and for AIDS events were 0.58 (95%CI : 0,39-0,87, P=0.0086) and 0.61 (95%CI : 0.40-0.93, P=0.020), for the medium and high tertiles, respectively. There was a non-significant reduced incidence of non-AIDS defining events in the medium and high tertiles, and a significant lower IRR of non-AIDS related death in the highest 25(OH)D tertile : 0.60 (95%CI : 0.37-0.98, P=0.043).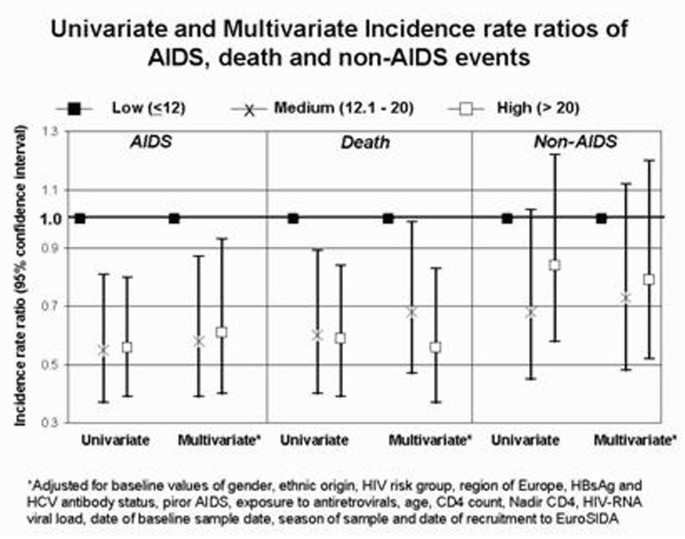 Conclusions
This observational study demonstrated that 25(OH)D deficiency is frequent in HIV-infected patients, and is independently associated with a variety of outcomes, reflected by a higher risk of mortality and AIDS events. Whether the relationship between vitamin D deficiency and clinical events is causal should be addressed because of potentially major consequences in terms of public health.
Rights and permissions
This article is published under license to BioMed Central Ltd. This is an open access article distributed under the terms of the Creative Commons Attribution License (http://creativecommons.org/licenses/by/2.0), which permits unrestricted use, distribution, and reproduction in any medium, provided the original work is properly cited.
About this article
Cite this article
Viard, J., Souberbielle, J., Kirk, O. et al. Vitamin D and clinical disease progression in HIV infection: results from the EuroSIDA study. JIAS 13 (Suppl 4), O43 (2010). https://doi.org/10.1186/1758-2652-13-S4-O43
Published:

DOI: https://doi.org/10.1186/1758-2652-13-S4-O43
Keywords
Poisson Regression

Incidence Rate Ratio

High Tertiles

Subsequent Risk

Single Laboratory