Poster presentation

Open Access
Safety and efficacy of maraviroc (MVC) combined with multiple different therapeutic agents in highly treatment-experienced (TE) patients in Brazil
Journal of the International AIDS Society volume 13, Article number: P105 (2010)
Background
MVC is the first-in-class CCR5 antagonist approved for use in treatment of CCR5-tropic (R5) HIV-1 infection; however, there is limited experience with MVC in regimens containing newer PIs and other new agents. This open-label 96-week multi-center study evaluates MVC in a variety of regimens to obtain additional safety and efficacy data in TE patients with limited options due to intolerance or resistance in Brazil.
Methods
Adult TE patients with R5 HIV-1 only (HIV-1 RNA >1000 cp/mL) received MVC 150-600mg (based on concomitant ARV) twice daily, combined with optimized background therapy (OBT). Every 12 weeks, safety parameters (primary endpoint), HIV RNA, and CD4 counts were assessed; we report data at 48 weeks.
Results
Of treated 206 patients, 70% were male (mean age 43 yrs) and 80% Caucasian; 2.9% and 5.8% were seropositive for HBV or HCV infection, respectively. Median baseline HIV-1 RNA and CD4 counts were 4.9 log10 copies/mL and 185 cells/mm3, respectively. OBT comprised PI+NRTI (67%), PI+NRTI+NNRTI (7.8%), PI+NRTI+other (14.6%), or other regimens (10.2%). The most frequently used NRTIs were TDF (82%), 3TC (76%) and AZT (23%); the most common PIs (most boosted with RTV) were DRV (45%), LPV (41%) and ATV (15%); 16% received RAL. OBTs contained ≤1 drug (1% of patients), 2 drugs (7.3%), 3 drugs (24.3%), 4 drugs (35.4%), 5 drugs (23.8%), or ≥6 drugs (8.2%). Sixty-five patients (31.6%) discontinued; reasons included death (6 patients), adverse events (5), insufficient clinical response (36), lost to follow-up (4), or other (14). There were 238 treatment-related adverse events in 103 patients; 16 treatment-related serious adverse events in 9 subjects; 10 category C events, none treatment-related; and 2 of the 4 malignancies (Hodgkin's disease and intestinal T-cell lymphoma) were considered treatment-related. The most common grade 3/4 lab test abnormalities were GGT elevation (11% of patients), hyperbilirubinemia (11%) and serum amylase elevation (6%). Median CD4 count increased persistently through week 48 (Figure), with similar responses comparing quartiles of baseline CD4; the median increase from baseline at week 48 was 164.5 cells/mm3. HIV-1 RNA decreases were maintained regardless of baseline viral load; overall 41.1% of patients had HIV-1 RNA <400 copies/mL at week 48.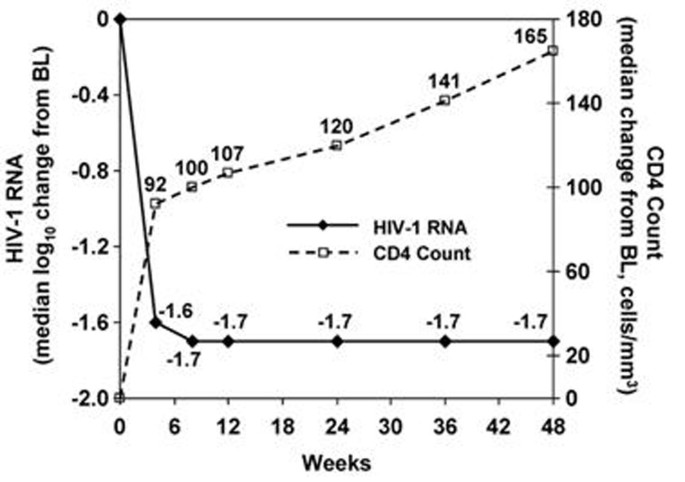 Conclusions
In highly TE patients, regimens combining MVC with different agents from multiple classes were well tolerated and provided marked antiviral and immunologic responses.
Rights and permissions
This article is published under license to BioMed Central Ltd. This is an open access article distributed under the terms of the Creative Commons Attribution License (http://creativecommons.org/licenses/by/2.0), which permits unrestricted use, distribution, and reproduction in any medium, provided the original work is properly cited.
About this article
Cite this article
Furtado, J., Madruga, J., Bicudo, E. et al. Safety and efficacy of maraviroc (MVC) combined with multiple different therapeutic agents in highly treatment-experienced (TE) patients in Brazil. JIAS 13 (Suppl 4), P105 (2010). https://doi.org/10.1186/1758-2652-13-S4-P105
Published:

DOI: https://doi.org/10.1186/1758-2652-13-S4-P105
Keywords
Maraviroc

CCR5 Antagonist

Baseline Viral Load

Optimize Background Therapy

Amylase Elevation